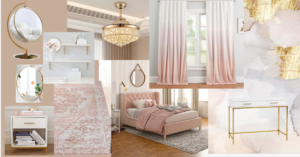 Moms, did you know that designing your daughter's bedroom is a great opportunity to create a special bonding experience? Not only will it give you a chance to spend quality time together, but it will also allow you both to express your creativity and personal style. Plus, when the project is done, your daughter will have a beautiful and unique space that she helped design and can be proud of for years to come. Here is what I did with my daughter to design her dream bedroom which made it a fun and rewarding experience for us both.  
Start with a vision board: Before I began selecting furniture and decor pieces, I sat down with my daughter and created a vision board. I used Canva to do this. I asked her what colours she desired first and then I asked her what were some things that she had to have in her room. We also looked for inspiration online, in magazines, and in her favorite stores. Surprisingly, I had no problems with her must-haves.  We were on the same page which meant we were ready to move to the next step. 
Canva Design: Canva makes this so easy for non-professionals!
Colors: pink, white, gold, grey
Daughters's must-have items: Swing, Desk, Bed, decor plant, mirror 
Make a budget: When my daughter and I knew what items we wanted, we set a budget. This made it easier for her to search online and avoid showing me anything that cost more than X. It's important to teach her this life skill and avoid overspending.
Our Budget: $6000 (We did great staying within our budget!) 
Get playful and creative: I knew that we wanted a fun accent wall, so I found a company that has an amazing variety of wallpaper designs. With my daughter's input, we chose a design that had all her favorite colors – and let me tell you, it was a perfect match! We tackled the installation ourselves, and the end result was absolutely amazing!
Photo Wall Link: https: //www.photowall.com/us/indigo-blush-and-gold-wallpaper
But that's not all. One of my daughter's absolute favorite things in her room is the swing I found for her! It's the perfect spot for her to cozy up with a book or even take a quick nap. Honestly, I often catch her in her room, happily swinging away. If you're curious to see it for yourself, take a look here!
Consider functionality: While it's important to make the bedroom look beautiful, don't forget about functionality. Your daughter's bedroom should be a safe and comfortable space that meets her needs, such as having designated spaces for homework, play, and relaxation. I found this perfect desk where she spends a lot of time, building legos, doing her homework, or doing her favorite activity, which is sketching in her art book. The desk is compact, stylish, and perfect for medium size to small rooms. 
Enjoy the process: This should be fun and stress-free. My daylight is 9 and I'm sure that this will not be the last time we are designing her dream room together. As they grow, so will their taste and needs. It's just another thing to look forward to in the future. 
Conclusion:
Designing your daughter's bedroom can be a fun and meaningful way to bond with your child while also creating a beautiful and functional space. By keeping these tips in mind, you can make the process enjoyable and rewarding for both of you. Remember to have fun, be creative, and enjoy the journey together.
Loved what you saw? Here are all of the links to all of the furniture we purchased. 
Pink Plush Bed:https://amzn.to/48t7Aur
Floor Length Mirror:https://amzn.to/48t7Aur
Nightstand: https://www.wayfair.com/furniture/pdp/mercer41-dargon-2-drawer-nightstand-w009413161.html
Swing:https://amzn.to/48t7Aur
Bedding:https://amzn.to/48t7Aur
Curtains:https://www.pbteen.com/products/ombre-blackout-drape/?cm_src=WSISearchRVI&recstrat=RVI%7CRVI
Shelves:  https://amzn.to/48t7Aur
The Tooth Fairy And The Enchanted Tooth Box Childrens Book: